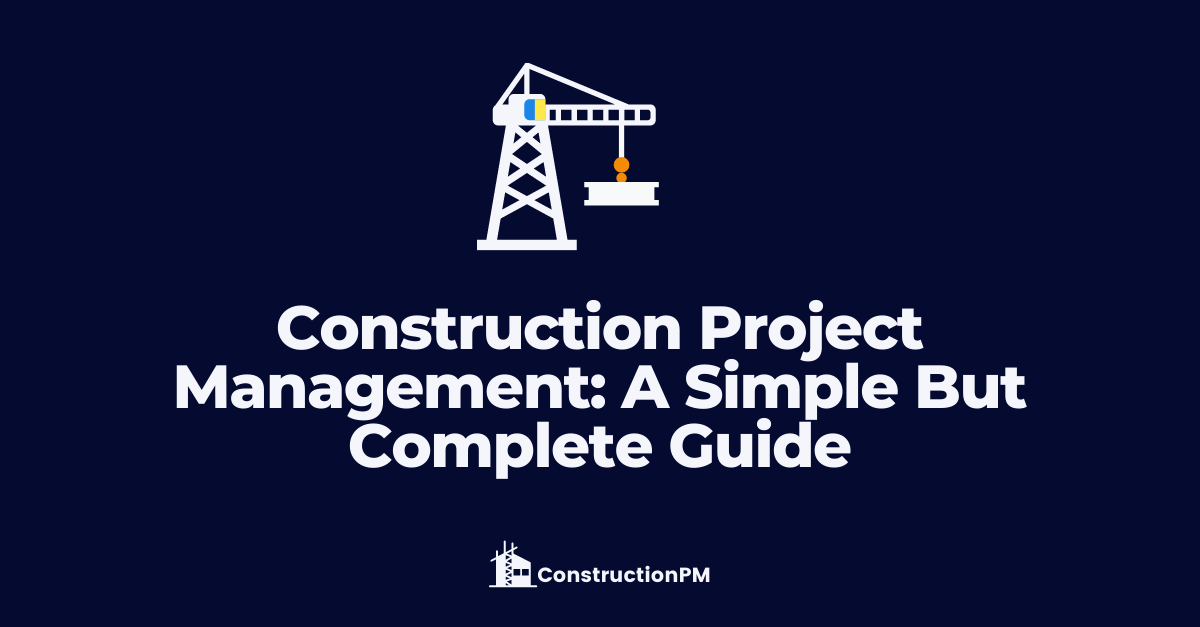 Construction is a TRILLION $ global industry accounting for millions of jobs. Without construction projects, the world would be a very different place today.
The skyscrapers, ancient monuments, residential buildings, industrial facilities, hydroelectric dams, etc. would not be possible without construction. All the development that we see around us is a direct result of construction projects.
As you can imagine, executing each of these projects is a time-taking and costly endeavor, and without proper management, none of it would/can be possible. Construction projects are all about getting the best outcomes, on time and within budget.
In this blog, we share some best practices to keep your construction projects running smoothly, as well as tips on how to implement these practices into your current construction project management strategies.
What is Construction Project Management?
Construction project management is a complex process of planning, organizing, and controlling that ensures a construction project is completed on time, within budget, and at a desired level of quality. It is an extremely involved discipline that requires addressing many important concerns, including:
planning/scheduling
cost control
quality management
resource management
safety
procurement
and risk management
Construction projects are highly variable in terms of size and complexity, which means there is no single formula for successful construction project management.
Types of Construction Project

Broadly speaking, construction projects can be broken down into 4 distinct types:
Commercial projects: consist of projects, from office complexes and retail developments to hotels and theme parks. These projects are larger in scale and require a more complex management strategy than smaller residential projects.
Industrial projects: consist of projects such as power plants, oil refineries, and mining sites. These projects can range for $10M to upwards of $1B.
Infrastructural projects: consist of projects such as dams, bridges, and power lines. Such projects are extremely critical to the development of any community.
Residential projects: consist of projects such as single-family homes and townhouses. Compared to commercial and industrial projects, residential construction is less complex.
Each sector has its own set of challenges and best practices that should be considered.
Main Roles in Construction Project Management

Within construction project management, there are many roles that must be taken into consideration. The following is a list of some of these roles.
Owner/Client
Construction Project Manager
Contractor (Subcontractors)
Construction Managers
Consultants
Project Team Members (Professional and Support Staff)
Legal Representatives: Architect, Attorney, Engineer, and Others (Dependent on Contract Type)
Each of these stakeholders will have different roles in any given project; it is imperative that all parties are informed of their duties and responsibilities throughout a project's life cycle. Since not every construction project will have all of these people involved, it is essential for an organization to define the tasks needed to be accomplished.
The owner/client of a construction project establishes the project requirements, hires and manages project managers, and must have overall leadership in order for projects to succeed.
The construction project manager's role begins at the conception of a construction project. The construction project manager needs to ensure that all other stakeholders (such as owner/client, architect/engineer, legal representatives) are informed and up-to-date on any delays or changes in schedule.
A construction project manager has four main duties throughout a construction project. These duties include providing overall coordination, facilitating communication among various stakeholders, planning and ensuring the completion of activities required by a project.
A construction project also involves several contractors and subcontractors. The contractor oversees these different roles from beginning to end. There may be General Contractors who can handle all aspects of a project or there may be specialized contractors handling only specific aspects like mechanical, plumbing, electrical, etc.
General Contractor (GC) is responsible for overseeing every aspect of construction including production, logistics, scheduling, and labor in addition to coordinating with other involved parties including owner/client (OC), architect/engineer (AE), and legal representatives (LR) etc.
Subcontractors are used in construction projects as well. They specialize in doing smaller parts of jobs that need multiple people working together.
The owner/client usually has their own ideas of what they want their final product to look like and can have these ideas drawn out by an architect or engineer. Architects and engineers are both in charge of designing construction projects, but they use different methods in order to do so.
While architects draw up technical drawings that must be constructed using construction blueprints, engineers design buildings based on code regulations for area building. An architect does not need construction experience whereas engineers almost always require some sort of construction experience as part of their prerequisite training.
Construction projects can be very large, which is why it is important to hire lawyers specializing in construction law. Lawyers develop contracts that clearly state all parties involved, where work will be performed, and how payments will occur.
Contracts are extremely vital to construction projects because they state each party's expectations so no misunderstandings happen when construction begins; furthermore, they can help reduce the chances of future lawsuits by being specific about who is responsible for what.
Construction Project Manager vs. Construction Manager

What's a Construction Project Manager and What's a Construction Manager? To clear up any confusion, it's important to understand what differentiates a construction project manager from a construction manager. Despite their similar titles, they fill different roles and are typically employed by separate entities.
The key difference between these two individuals is their relationship with owners and contractors. Construction project managers work directly with business and property owners, working alongside them throughout each stage of construction to make sure things are done correctly and that budgets aren't exceeded. 
A construction project manager is employed by an owner of a building or structure under construction, while a construction manager works for an engineering firm or architecture firm or a construction company. 
A construction project manager often spends more time creating financial models, making sure designs meet specifications, coming up with cost estimates and to keep costs down. On top of that project managers are accountable for any issues during construction. 
A construction manager is an individual who monitors and manages construction to ensure they are on schedule, within budget, and up to code. They are responsible for scheduling different aspects of a project, making sure that timelines run smoothly.
Construction managers also assist in organizing equipment and labor so that jobs can be completed as efficiently as possible. 
Construction managers typically oversee day-to-day construction operations. This helps ensure projects are completed on time and in accordance with governmental regulations.
Despite these differences, both individuals should complete a bachelor's degree in construction management or civil engineering, though some states require a P.E./P.G./R.E license to become licensed as a project manager when they're working under contract with their respective jurisdictions. 
Construction Project Delivery Methods

There are three main methods for construction project delivery—they are Design-Bid-Build; Design-Build; and Integrated Project Delivery. Let's take a look at each method and its benefits. We will also talk about how they are different in some ways, as well as when it makes sense to use one delivery method over another.
Hopefully, once you read through these delivery methods, you will have a better understanding of which one works best for your project management needs. 
Design-Bid-Build: This is where all of the design drawings/documents are completed before any construction begins. A qualified contractor is usually chosen based on costs alone and then goes about constructing what has been designed (with little flexibility).

This approach allows for changes along the way with more clarity than in other models but is slower and potentially more expensive than other models. For example, an architect can complete blueprints—but only after a prospective builder has been awarded bids from various subcontractors on cost alone!

The biggest advantage to using a design-bid-build model is that there is very little room for change so there won't be surprises down the line if projects come in under budget or if materials costs don't reflect reality. 

Design-Build: There is no preconstruction design phase involved here—this model allows a contractor to become fully immersed in all phases of project planning during the bid process.

In other words, designers and builders work together throughout construction thus reducing potential issues that may occur due to miscommunication between parties involved. It should be noted that designs cannot be altered once work commences since there was no pre-construction planning phase. 

Integrated Project Delivery: Here we have a unique hybrid approach that combines features of both the design-bid-build and design-build approaches described above. One big benefit to using an integrated model it allows for seamless collaboration amongst teams making managing projects quite easy. With IPD's collaborative style, multiple disciplines must communicate effectively early on during stakeholder meetings such as kick-off meetings and regular coordination meetings. 
It's important to note that these tools do not eliminate every issue associated with project execution, but rather make them easier to manage.
Whether you decide on a design-bid-build or design-build approach for your construction project, remember to remain flexible – because surprises do happen…especially when you aren't looking! – and trust your project management tools to keep you one step ahead of challenges that may be encountered.
They will be your guide on a successful path to project completion, and ultimately meeting all project goals in less time with fewer resources.
If you are working on a construction project, we hope these delivery methods gave you insight and knowledge that will prove useful in driving your business forward. 
Construction Project Life Cycle

Like any business, construction projects go through predictable stages. The typical steps include:
Initiation/Pre-Planning: This stage of the project life cycle includes a feasibility study/due diligence to determine if the project is even feasible. We look at the goals, cost estimates, and timeline to see if we have the resources to reach a successful project end within those constraints.

We also want to define the opportunity behind the project and make sure it's sound. Once this is done, we need to create a project charter to help initiate the project. We will also identify potential high-level issues and risks in this phase.

Planning and Design: This involves detailing the cost, scope, duration, quality, and communications used in the project. The process of assembling the main project team starts in this phase. This phase is probably the most important phase because the foundation of executing the project successfully is laid here, we will create important planning documents that will guide the project execution. Here are some of them:

Work breakdown structure
Risk management plan
Project schedule
Scope management plan
Cost management plan and project budget
Design Documents

Procurement of materials: Procurement of materials for the project is done in this phase
Building/construction: This is the culmination of all the hard work done in the previous phases and the project starts coming to reality. Physical construction work begins which requires proper monitoring and control to make sure that it goes according to plan.
Commissioning: This is the last phase before the project is handed over to the end-users. All the essential systems in the project are checked for commissioning, final clearances are obtained and the project is turned over to the client for use.
Additionally, most construction projects are part of larger initiatives and must coordinate with other tasks throughout their lifecycle. There are other jobs that can be done in-between as well, including inspections or cleaning up after a project ends. 
Get Free Excel Templates Now:
Excel templates for construction project cost control
 Types of Construction Project Contracts

There are two main types of construction project contracts: 
Fixed Price  
Cost Plus
There are also many variations of contract arrangements within these two general categories but we will focus on providing you with an overview of these two main types of contracts.
1. Fixed-price
A fixed-price contract gives you and your contractor or supplier certainty about how much it will cost to complete your project. Under a fixed-price contract, you pay your contractor or supplier for any additional costs incurred as they arise throughout construction. Additional costs can include extra materials, subcontractors, and other things that are not part of the original scope of work.
2. Cost-plus percentage of completion (percentage-of-completion contract)
with a cost-plus percentage-of-completion contract, you pay your contractor based on what he spent on labor and materials during construction. These contracts require very little paperwork upfront (as there's no specific itemized list) but do involve some guesswork on both sides. percentage total estimation (or lump sum estimating).
How to hire Contractors?
What type of contractor or sub should I hire? A general rule of thumb when hiring any kind of professional — architect, engineer, designer, developer — is to make sure that you choose someone who is experienced in the kind of work that you want to be done. It might seem like common sense, but in many cases, people ignore those instincts because it's easier to just go with whoever has quoted them a good deal (and then hope everything goes smoothly). 
Finding Contractors: If a friend or colleague recommends a contractor to you, that person probably knows that individual fairly well.
That person would also likely give off signals if they weren't impressed with his professionalism, communication skills, or quality of workmanship before bringing him up to you.
Even if they didn't give off negative vibes per se, at least ask yourself whether you really trust their judgment in terms of choosing professions like plumbers and electricians – because even if they're right 99% of the time about such appointments – odds are it'll only take one bad experience for them ruining your impressionable opinion forever!
Another thing to watch out for when considering recommendations from friends and family members – keep track of where / why those relationships ended. 
Were problems encountered due to faulty goods or services? Is there a chance they were scammed and that's putting on a good face for you now in hopes of swaying your decisions towards a certain contractor as opposed to trying to get revenge by recommending somebody else?
Construction Project Management Challenges

Every construction project has a unique set of challenges. Some are more straightforward than others, and some are just unexpected curveballs that keep you on your toes.
There's no way around it: managing a construction project can be difficult. So what kind of challenges do construction projects typically entail? Here are several common ones: 
Communicating at all levels. This is absolutely critical for coordinating a large group effort and allowing workers to function effectively in their own spaces…
Working with many stakeholders. This issue is unique to larger-scale projects (i.e., most commercial builds), which generally have dozens or even hundreds of stakeholders. It's easy for communication lines to get crossed, leading to delays, increased costs, and miscommunication in general… 
Negotiating changes. Sometimes things don't go as planned in a construction project—whether it be minor tweaks or major shakeups in a key team member's schedule… 
Dealing with technical challenges. It's not uncommon for unforeseen obstacles to pop up that can delay a project if they're not handled well by your team… 
Managing multiple teams. Quite often there are different contractors working on aspects of a single project: electrical, plumbing, concrete work, etc… Coordinating these groups seamlessly is vital to getting everything done right on time… 
Balancing quality vs. speed. There are two factors at play here: quality and speed/schedule. The two need to coexist within reason; when one outweighs the other, problems arise… 
Managing Project Changes
Whether you're managing big, small, simple, complex, fast, or slow-moving project(s), having a plan of action will help ensure success through every stage of your process. Remember that as construction managers it's our job to manage change – no matter how much we try to avoid it!
So let's jump into how to effectively manage change so we can stay focused, positive, and productive. Best Practices & Tips: 
Our number one best practice is good old-fashioned organization: By keeping tabs on your progress regularly throughout all stages of a project, you'll be able to avoid unpleasant surprises when things aren't looking quite as rosy as expected. In fact, if issues arise early enough in your processes – before serious damage occurs – it may still be possible to fix them without too much trouble.
Preparation is Key: Preparation is key in any scenario – especially when dealing with last-minute hiccups! If you haven't already developed best practices and tips to follow when things go wrong during a project (and they inevitably do), then now is as good a time as any… 
Make sure your team understands clear instructions: so that they know what steps to take and when. Also, make sure that your team knows how to reach you in case of emergency… 
Use Stop Work Orders: It's important that you have a strategy for handling stop work orders so you can take swift action when they arise (instead of scrambling last minute)… 
Document as much information as you can: before making any changes. Capture what triggered your decision, and also outline the potential consequences of whatever course of action you decide to take… 
Act Fast: Don't procrastinate! but it can be tricky to maintain. Dealing with rough terrain. Having all your workers on a single level could leave you susceptible to falling debris, hazardous materials, and more, as well as in danger of accidents due to uneven ground or other environmental conditions like wind and rain.
Monitoring cost overruns: It's not unusual for projects to end up costing more than their original estimates… but that doesn't mean you have unlimited leeway when it comes to budget overruns. 
Balancing out worker skillsets: across multiple job sites can help, but sometimes training is required for less-common skills—which could take time and effort away from your project. 
Managing conflict resolution among workers: Communication is a huge key to project management. Project management is simply a set of organizational tools used to coordinate teams and support communication between different departments…
Common Mistakes Made in Construction Project Management and How to Avoid Them?

Don't rush things. Construction project management is not something that can be done overnight. It involves a lot of preparation and planning before it can be executed properly.
Make sure you allow yourself enough time for these processes. If you try to wing it, chances are your end product will suffer tremendously.
Skimping on materials doesn't work well either: make sure you have access to high-quality building supplies as you carry out construction projects on an ongoing basis. This allows for better quality control in your projects as well as faster delivery times – both of which directly impact your bottom line in terms of profit.
Never put all your eggs in one basket: when it comes to construction project management. The best way to manage construction projects is by having several contractors working together toward a common goal rather than one big contractor taking charge of everything.

Not only does this reduce risk if anything goes wrong (nobody wants to do all of their own contracting), but it also increases efficiency as everyone works with their strengths instead of trying to compensate for someone else's weaknesses.
Communicate early and often with construction project managers: so they know what needs to get done and how quickly they need to do it. While there should always be room for compromise, set deadlines based on realistic expectations of what can get accomplished at different points in time during construction projects.
Being overambitious: at any point is more detrimental than being overly conservative; after all, contractors aren't going to get paid more just because you wanted them to get more done!

Having weekly meetings or face-to-face conversations at least once every two weeks keeps everyone accountable and organized throughout a construction project from start to finish.
Engage Contractors That Will Get Your Construction Projects Done Quickly: As stated above, communication is key here. Make sure you communicate your expectations clearly with all contractors working on a project and don't be afraid to work together toward new deadlines if your original ones aren't feasible for some reason.

It's better for both parties involved if you can figure out new strategies instead of giving up and saying that things are taking too long.
Use Checklists To Help You Stay Organized For Construction Projects: Every project should have its own construction project management checklist so that you can always check off everything that needs to get done without forgetting something important later on down the line.

A good rule of thumb is to always keep a running list of things you still need to do with room for more tasks if they pop up while working on construction projects.l
Work With Construction Contractors who are flexible on how they execute Construction Projects: Not every contractor will work in a way that fits seamlessly into your overall plans, and some will require more management than others.

Make sure contractors are aware of your intentions for construction projects and make necessary adjustments as early as possible when things don't seem like they're going as planned. 
Work With People You Can Trust To Do Things Right On Time And Budget: This is going to sound clichéd, but it's true: honesty really is the best policy in the business. No matter how much you enjoy working with someone personally or how much they've done well in terms of quality previously, your business comes first.

If they're failing you repeatedly or have a reputation for doing so among other contractors within your industry and word gets out that they're not trustworthy because they do shoddy work or are otherwise unreliable (like being late with payments often), then trustworthiness is paramount if you want your business to succeed long-term. 
Document Everything Involved In Construction Projects For Clarity's Sake: You might be able to keep track of everything construction project-related just from memory (most people can't), but it definitely helps if you take notes from start to finish so there is no confusion about where tasks were left off or what needs doing next. This also helps maintain consistency in your approach and makes scheduling easier when everyone knows exactly what's expected out of them as well as when they're expected to get it done. 
Don't Make The Same Mistakes Over And Over Again: It's all too easy for mistakes made by one contractor on an ongoing project to be replicated by subsequent ones, which can lead to project failures far down the line when issues don't get caught until later stages of construction due to lack of communication and proper oversight from project managers or their representatives. 
Maintain A Well-Kept Tool Belt For Maximum Efficiency: Having ready access to everything you need at any given time makes projects easier to complete on time, reduces waste from having to make multiple trips back and forth between your location and supply depots, cuts costs since you won't have had to pay for shipping costs or additional fuel usage/wear & tear on vehicles/equipment/bodies (especially when compared against walking great distances just to pick up items), and generally makes everything run more smoothly because fewer steps need taking in order for basic tasks like cutting materials or driving nails into place. 
There are many more mistakes that happen in construction projects but being aware of those mentioned above and proactively avoiding them will help navigate through the most difficult and painful mistakes.
Construction Project Management Software

If you're struggling with project management, make sure that you look into construction project management software. These tools can help simplify your job and make it easier for you to manage projects from start to finish. Many of these platforms are web-based and mobile-friendly, so they provide a helpful level of access on almost any device. You can often get started for free or at a very low cost.
There are many software programs on today's market that can make managing construction projects easier. They can organize the planning, scheduling, building, resources, and reporting associated with construction projects. This streamlines the process and improves productivity while keeping to a tight schedule and budget. 
From Gantt charts, which show how well individual tasks align with your overall timeline, to scheduling apps that can automate project-planning aspects like generating reports and sending memos. The right tools can help reduce human error, free up resources, keep everyone in sync and more importantly, save you money.
Be sure to choose a program that's easy for team members to learn and use—if it isn't simple enough for your whole team to use regularly then you might as well not have it at all. Some must-have features in a construction project management software system are:
Dashboard: Access all projects from a centralized location
Activity Planning and Tracking: Track & stay on top of all project activities
Cost Tracking: Track actual project costs against budget with customized workflows
Material Tracking: Keep track of all the material movement from BOM to delivery on site.
Document Sharing: Manage all drawings, contracts, invoices, etc. with automated workflows
Reporting: Generate reports of various types to suit the needs of the stakeholders.
1. ConstructionPM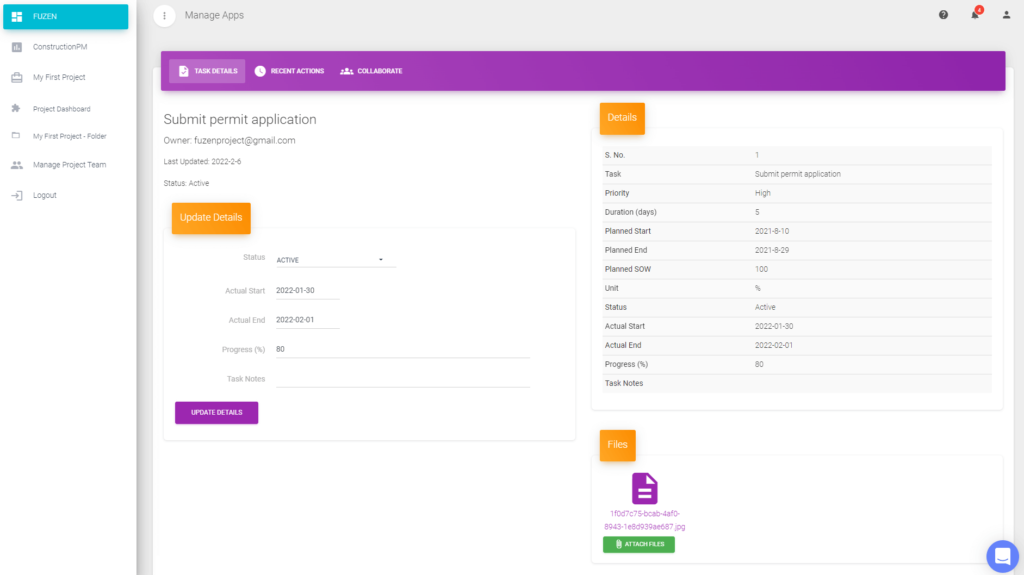 ConstructionPM is a cloud and web based construction management solution built on the Google platform. You have full access to all data and information right in your Google Drive. With features like task management, cost management, document sharing, this is suited for small construction companies who have information scattered in multiple places and spreadsheets with no traceability.
2. Buildertrend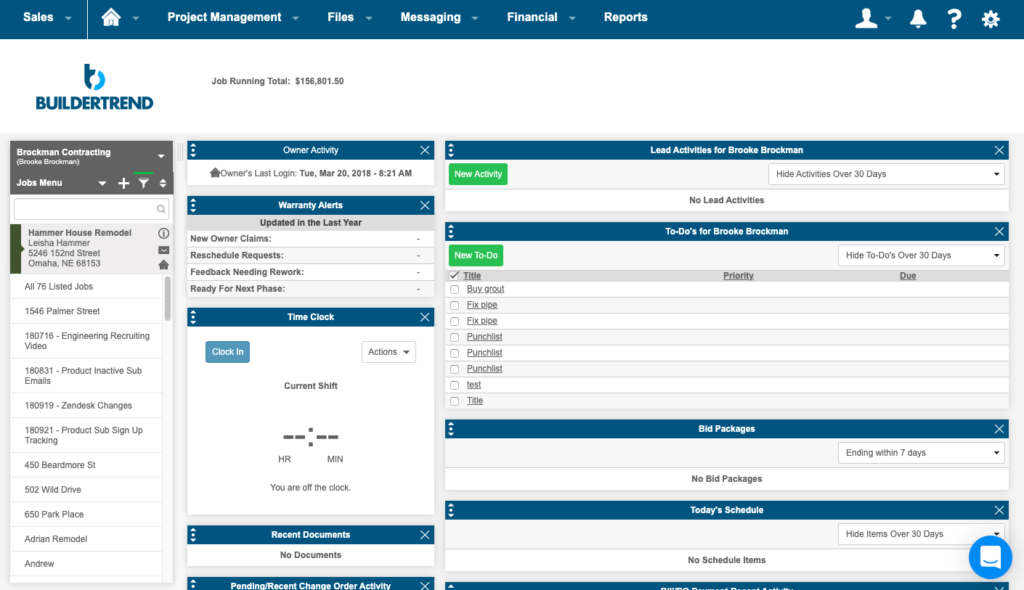 Buildertrend is a cloud-based construction project management tool and app specialized for residential construction. It aids communication across the project team; builders communicate with subcontractors about tasks and allows clients to see real-time status about their home and the costs. BuilderTrend lets you share documents, create proposals, manage the bidding process and create schedules.
3. CoConstruct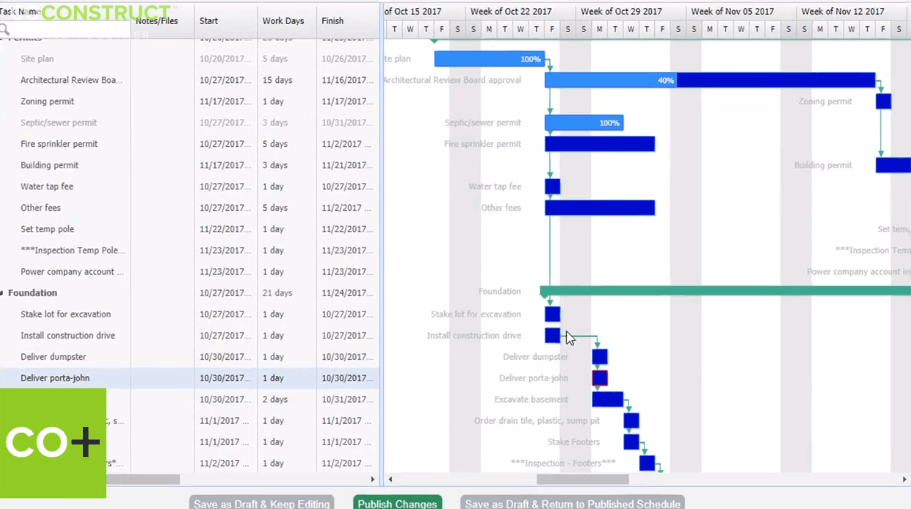 Coconstruct is another solution mainly for residential construction. It is web-based and helps businesses coordinate their selections, schedules, and photos while improving relationships with interactive communication. Some of its key features are tracking change orders, creating a project budget, updating schedules, sharing files, and more.
4. Procore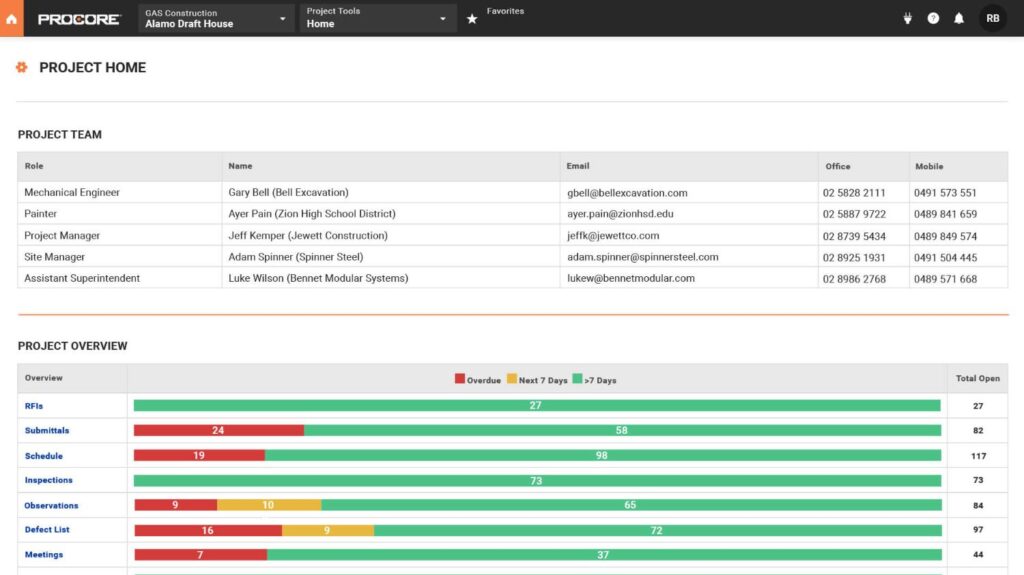 Procore helps firms streamline collaboration resulting in increased efficiency and accountability. It is cloud-based and provides ways to collaborate on projects and view documents, with real-time editing capabilities. Other features include project dashboards, scheduling, reporting, document management, email training, bidding, and more.
While there are many great alternatives, Procore has made itself popular because it's specifically designed for building projects. Its site claims to make it easy for teams to get started and work together in real time – eliminating lengthy document transfers. 
5. BuildTools

BuildTools is also designed for residential construction firms. Some of it's key features include scheduling, service management, document storage, budgeting, and customer management. You can manage all the communication for your team members, easily sharing emails, site photos, project schedules, budgets, and timesheets.
6. Aconex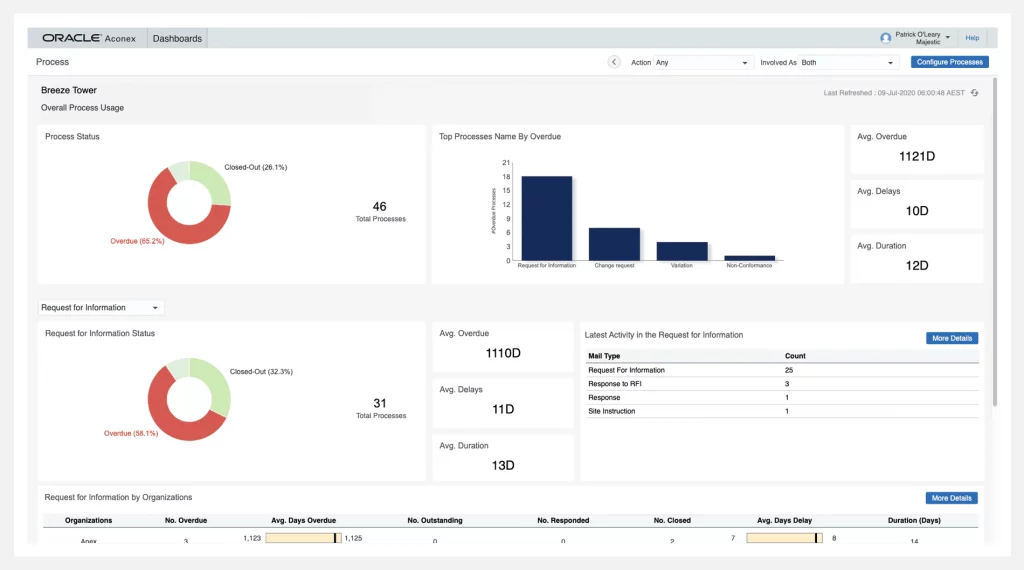 Aconex specializes in information management. It allows one to manage information and processes across engineering and construction projects to improve efficiency and reduce risk.
Key features include document management, workflow automation, bid management, issue management, and more. As a web-based solution, Aconex allows users to create and review documents from any location.
7. SmartSheet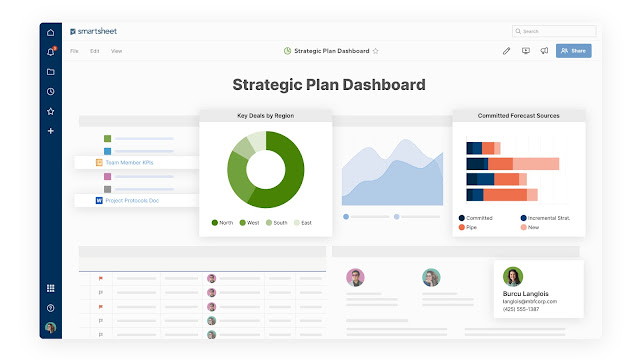 Smartsheet is a digital project management system that helps teams keep track of their deadlines and daily tasks. Smartsheet's intuitive interface allows you to manage projects of all sizes with ease, whether you have 2 people or 2,000 people on your team. 
With Smartsheet Project Management Software, create and share Gantt charts that allow you to visualize deadlines and goals across multiple platforms like Outlook and Google Drive. 
You can upload files from your computer, Google Drive, Box, Dropbox, Evernote, or add a web URL, creating a central repository for all project documentation and contracts. Team members can have discussions directly in the sheet and set reminders and alerts, so everyone is on the same page.
You'll Also Like if you're solar installer:
Solar Project Management app

Manage construction projects faster and save 10 hours a week
Use the ConstructionPM Google Drive app to automate all of your project management tasks