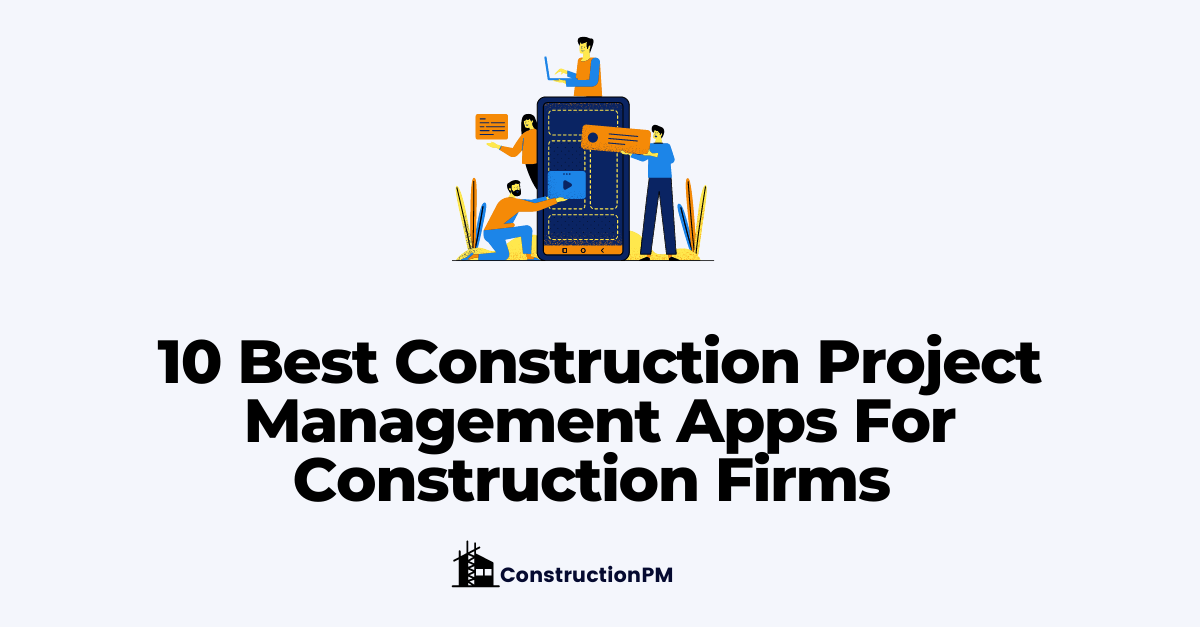 Last updated on June 28th, 2023 at 06:52 am
Introducing – the 10 Best Project Management Apps For Construction Companies.
Finding the best construction management software can be difficult. But don't worry, we're here to help! Check out our list of 10 apps that are worth considering.
These apps should make your life a lot easier, so check them out and let us know what you think!
Here are the 10 Best Construction Project Management Apps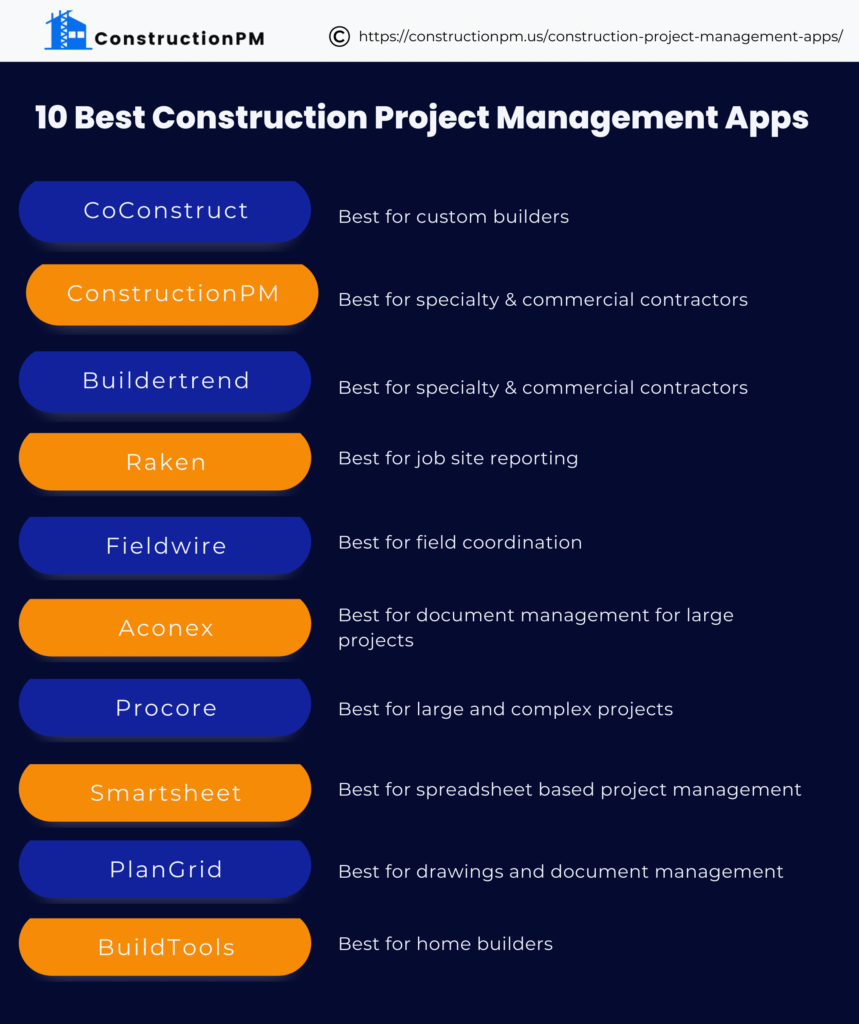 1. CoConstruct: Best for custom builders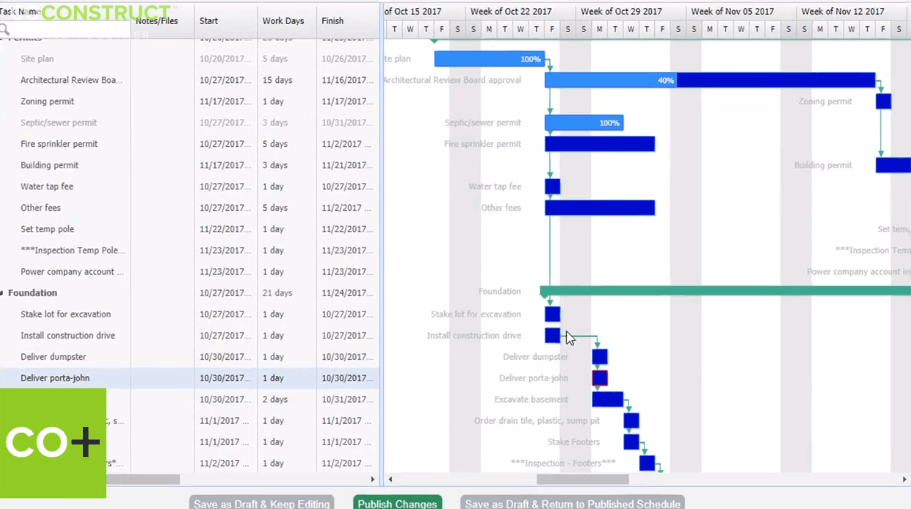 CoConstruct is a one-stop project management solution that can be used for any phase of a construction project. It is best suited for custom home builders and remodelers and has tools for managing projects, financials, and clients. 
CoConstruct has a lot of valuable features and tools. It has a robust web and mobile interface with a central dashboard that clearly showcases how your project is progressing throughout its life cycle.
Along with a variety of project management features, it also allows users to sync data from estimates, specifications, selections, bids, change orders, and budgets with QuickBooks Desktop or Online. 

Pros
Unlimited Projects
Great Customer Support and Coaching
Quickbooks integration
Client Portal
Cons 
High price point for some users
Suited for custom home builders
Pricing of CoConstruct
CoConstruct only offers a monthly subscription with plans starting at $99 and $399 for the first two months. All plans include unlimited users as well as unlimited projects with technical support and coaching. Pricing increases to $349 and $599 for the plans after two months. Discounted pricing option is available for annual plans.
Features
CoConstruct offers tons of features that enable remodelers and specialty home builders to manage their construction projects. Some of those features are,
Scheduling, 
Client and subcontractor management, 
File management, 
Change management 
Warranty tracking
Task management
Coordinate schedules, 
Track jobsite activities. 
Submit and manage proposals 
Estimating 
Bidding
Communication
When to Use CoConstruct
As mentioned above, this app is best suited for mid-size custom home builders and remodelers due to the rather steep price point. With its powerful scheduling and job management features, it enables efficient tracking of construction projects. 
2. Buildertrend: Best for specialty & commercial contractors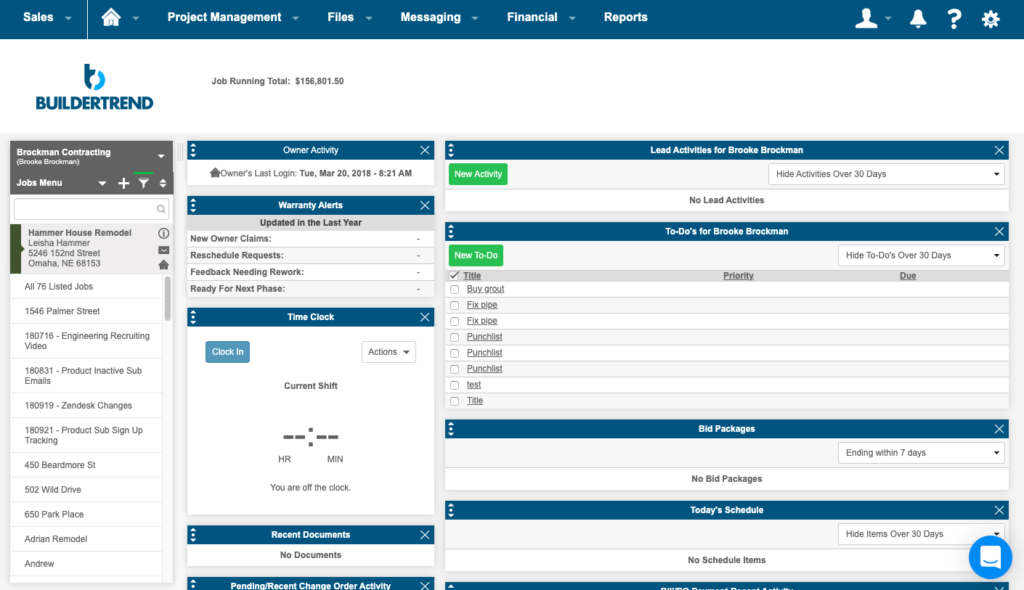 Buildertrend is a cloud-based construction project management tool and app for residential contractors like homebuilders, remodelers, specialty contractors, and commercial contractors. It provides users with a modern tool for planning projects, enhanced team communication, and tracking expenses. It includes tools for estimating, project management, schedule, and cost management.
Pros
Unlimited users
User friendly platform
Mobile app
Quick job estimation and proposal development
Risk free trial
Cons
High price point for some users
Suited for residential and commercial contractors
Pricing
Buildertrend offers monthly and annual subscriptions with unlimited users and unlimited projects. Pricing ranges from $99/month for the Core plan to $399/month for the Pro plan for the first two months.
Price increases to $349/month and $599/month for the two plans respectively after two months. It also offers a risk-free trial lasting for 30 days to give you time to evaluate the app.
Features
Buildertrend is optimal for small to mid-size residential and commercial contractors and provides the following features:
Job estimating
Proposal development
CRM
Planning
Scheduling
Timesheets
Change Order Management
Warranty Requests
Payment Processing
Daily Logs
Messaging
Document Storage
Client Portal
When to Use
Buildertrend is an efficient solution for small to midsize residential and commercial contractors. Its user interface is relatively easy to follow and optimized for small companies and projects. It has a powerful CRM and project management capability to improve tracking leads, submitting proposals, and managing projects.
3. ConstructionPM: Best for small construction companies


ConstructionPM is a cloud and web-based construction management solution built on the Google platform. You have full access to all data and information right in your Google Drive. 
With features like task management, cost management, document sharing, this is suited for small construction companies who have information scattered in multiple places and spreadsheets with no traceability.
Pros
Spreadsheet based interface
Fully customizable
Custom workflows
Unlimited projects
Unlimited users
Data stored on Google Drive
Cons
Limited to users on the Google platform
No mobile app
Pricing
ConstructionPM pricing information is not listed publicly. It offers flexible pricing catering to your requirements. Please contact them directly for a quote. It also offers a free 7-day trial for you to explore the tool.
Features
ConstructionPM offers a variety of features to help manage most facets of any construction project like –
Task management
Resource management
Cost management
Document management
Material Tracking
Purchase orders
When to Use
Are you currently managing your projects using several spreadsheets which are not connected to each other? Do you have data and information scattered in multiple places with no traceability? If the answer to the above questions is YES, then ConstructionPM is the right app for you. 
You can manage tasks, costs, material, and resources easily, efficiently, and quickly for all your construction projects using ConstructionPM's Google Drive-based platform.
4. Raken: Best for Job Site Reporting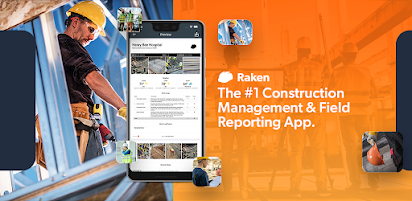 Raken is a powerful job site reporting platform designed to make daily reporting easier and faster. This is best suited for large-scale residential and commercial construction businesses. This tool enables your team in the field to track their activities throughout the day, resulting in more accurate and less time-consuming reporting.
Your team in the office can receive accurate end-of-day updates via Raken's platform. Furthermore, you can also track progress, material, timesheets, etc using Raken. 
Pros
Time tracking
Daily reporting
Material tracking
Quality and safety tracking checklists
Unlimited projects
Project templates
Cons
No CRM capability
No job estimating
No scheduling or cost tracking
No document storage or sharing
Pricing
Pricing for Raken is based on the number of users you have on the platform and the features you need to access. Plans are billed per user per month, although there is a discounted annual billing option, which saves you 20%.
Paid plans begin with the Basic plan at $15/user/month and range up to the Performance plan at $46/user/month (when billed monthly). There is also an Enterprise-level plan available. You can also try Raken for free using the 15-day free trial. 
Features
Raken specializes in documentation and reporting of job site activities. The daily reports features include tools for uploading photos and videos, recording work logs, and making notes throughout the day. Some additional features include:
Daily reports
Quality checklist
Safety checklist
Timesheets and time tracking
Material tracking
Toolbox talks (a library of work safety talks to present to employees)
When to Use
Raken is being widely used by large companies and projects with a need to simplify daily reporting. It has a user-friendly interface for developing checklists for quality and safety management.
If your company or project is struggling with reporting and tracking activities on the job site then Raken is the way to go.
5. Fieldwire: Best for field coordination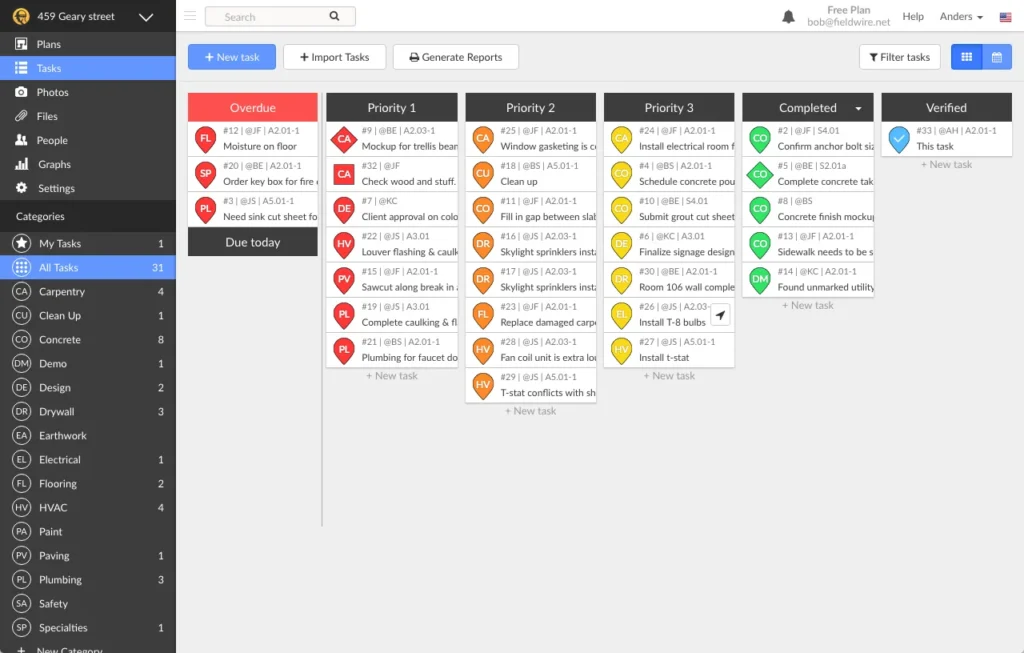 Fieldwire is a popular construction project management cloud-based solution widely used for big-scale residential and commercial projects. It is being used for projects all over the world. Fieldwire makes Jobsite coordination a breeze with its task management and scheduling features. Its drawing review and markup features are truly revolutionary making job site collaboration very easy.
It also has a powerful task scheduling and tracking feature enabling team members to stay on top of their projects.
The software's scheduling side allows users to organize, assign, and schedule tasks via a Kanban priority, Gantt chart, or calendar view. Furthermore, you can view these tasks from any device, meaning nothing will ever fall through the cracks. 
Pros
Unlimited projects
Easy to use app
Drawings and Document markup
3D model viewer
Task Tracking
Real time notifications
Cons
No client portal
Per user fee
Pricing
Fieldwire offers a lot of options depending on the features you need. There is a free plan available for businesses with five users or fewer. This includes features for task management, file sharing, messaging, photos, and checklists. On this plan, you can track 100 sheets and three projects.
The paid plans are available on a per user per month basis, with plans billed monthly or annually, depending on the number of licenses your business purchases. The paid plans range from $44/user/month to $104/user/month (billed monthly). Fieldwire also offers a custom plan for businesses with over 50 licenses.
Features
Fieldwire offers a plethora of features to manage projects of any size and complexity. Some key features include –
Plan management
Easy document and photo sharing
Custom forms
Drawing viewer
360 degree photos
BIM 3D model viewer
Generate a range of reports instantly and automatically
RFI tracking
Custom checklists
Instant messaging
Task tracking
When to Use
Fieldwire is a widely used construction project management solution geared towards large projects. However, it can be used by small teams as well since the plans are offered on a per-user per month basis. If your project is having a hard time keeping up with drawings and documents then Fieldwire is the way to go given its efficient drawing and document management capabilities.
6. Aconex: Best for document management for large projects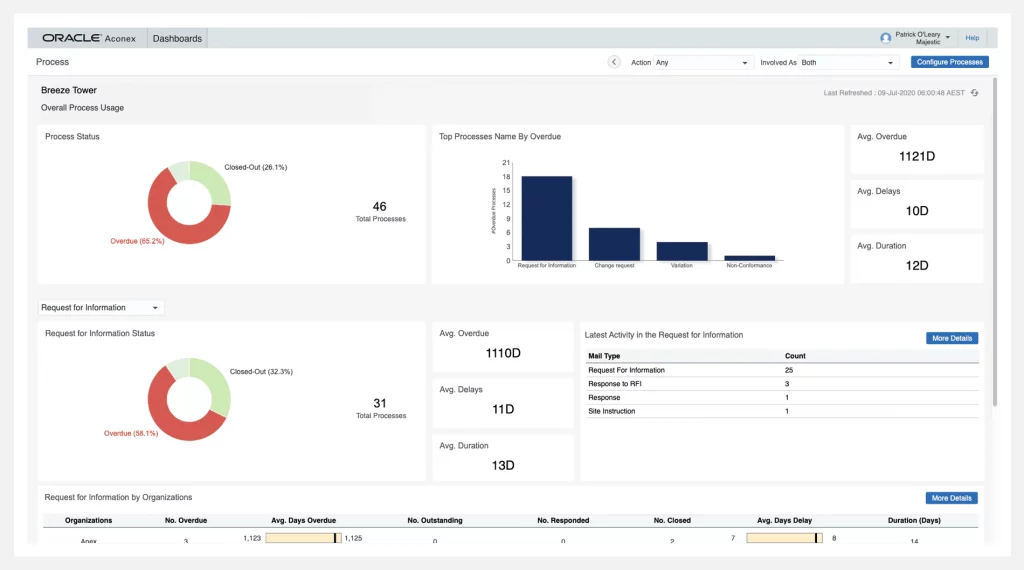 Aconex is Oracle's cloud-based solution for managing information and processes on complex construction and engineering projects. It supports key management functions like document management, bid management, issue management, and control of project communication.
It also offers other recent innovations like BIM file management, field inspections, issue management, and management of operations and maintenance manuals.
Pros
Advanced Document management
Time tracking features
Cost management
3D Model viewer
Change management
Quality and Safety Checklists
Cons
No accounting system integration
No planning or scheduling capabilities
Expensive for small organisations
Learning curve can be steep for some users
Pricing
Aconex does not share pricing details publicly. Contact Oracle directly for information on starting prices and available plan offerings.
Features
Aconex specializes in drawings and document management. It also has the following features –
Supports large teams
Cost management
3D Model viewer
Change management
Quality and Safety Checklists
Job Site Reporting
When to Use
Aconex supports construction and engineering projects across multiple industry segments but is primarily designed for owners, developers, architects, engineers, contractors executing large complex projects like infrastructure, power, and oil and gas.
7. Procore: Best for large and complex projects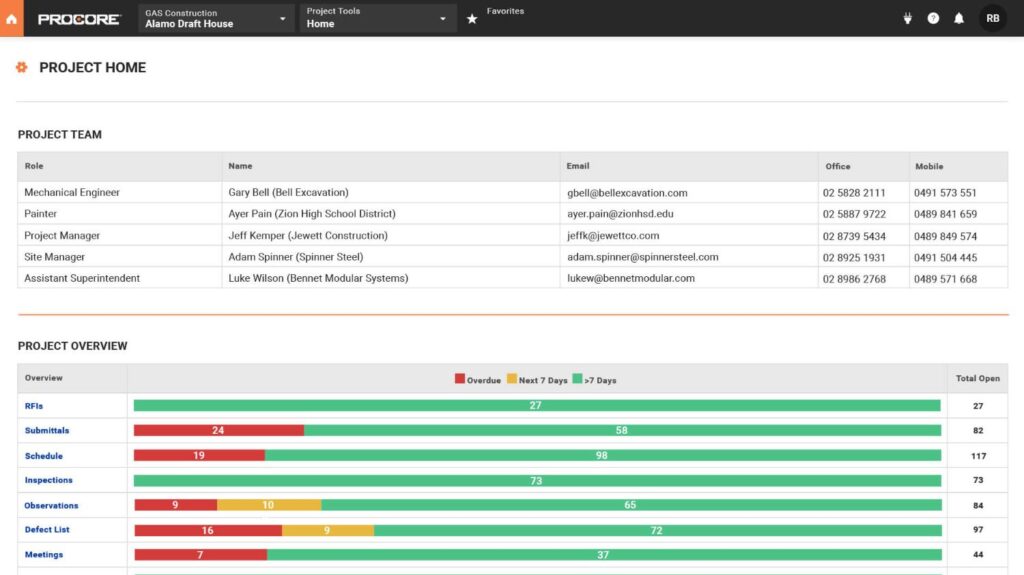 Procore is one of the leaders in the construction management app space as it is being widely used by construction companies all over the world. Procore enables communication and collaboration among teams for the whole construction project lifecycle, from pre-construction to project closeout.
Project owners, contractors, and subcontractors gain clear visibility of every process, with high accessibility from any device and real-time connectivity.
Procore runs on a cloud-based network and offers powerful integration with other apps to enable custom workflows. It offers a complete suite of features for construction project management like pre-construction estimating, budgeting, planning, quality, safety, field coordination, reporting, and many more.
It also has powerful BIM capabilities which are being used for 3D model coordination and for streamlining communication with the whole team
Pros
Role-based access to the app
User friendly web and app interface
Robust document sharing and file centralization
3D model viewer
Integration with 3rd party softwares for custom workflows
Cons
Pricing based on annual construction volume of the projects being managed and the features being used
More suited for big companies and large projects
Pricing
Procore offers a customized quote-based pricing structure based on the annual construction volume of the projects being managed and the features being used. Procore does not share pricing details publicly. Please contact Procore to receive a customized quote based on your requirements. 
Features
Some of the key features which have enabled Procore to be used widely all over the world include –
Daily Reporting
RFIs
Budgeting
Scheduling
BIM model viewer
Document storage
Role-based access
Drawing viewer
Tasks
Integration with 3rd party apps for custom workflows
Custom forms
Bidding
When to Use
Procore is an industry leader when it comes to managing large and complex projects. It has a full suite of features to help manage all facets of any construction project.
With features like a 3D model viewer, scheduling, cost management, and many more combined with excellent customer support, you can rest assured that Procore will work for you.
8. Smartsheet: Best for spreadsheet based project management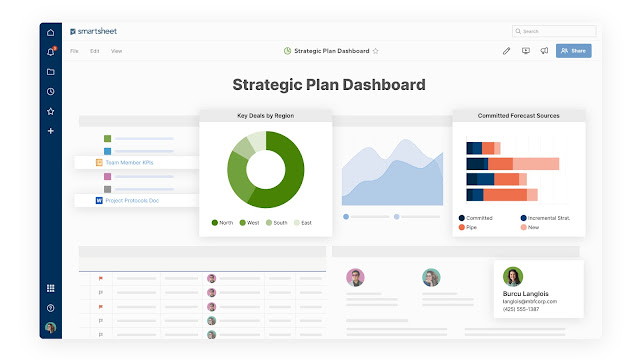 Smartsheet is a general-based project management software construction companies use for managing construction projects. It is based on a dynamic spreadsheet-based central platform to help users manage a variety of tasks for their projects like planning and scheduling.
It offers pre-built and custom templates for pre-construction, safety management, field operations, resource management, quality control, and reporting.
Smartsheet's project scheduling is very powerful and allows you clear visibility over the entire project. Tasks can be easily assigned to various team members to ensure efficient tracking and transparency on project deadlines.
Smartsheet can be used throughout the lifecycle, from pre-construction to closeout. It connects team members both in the office and at the job site. 
Pros
Wide range of customizable pre-built templates
Good planning and scheduling features
Cons
Spreadsheet based interface so learning curve for new users can be high
Designed for general project management, though it can be customised for construction projects
Pricing
Smartsheet offers trial plans for free. It is a good option for small companies currently using a spreadsheet-based interface for managing their projects. It offers both monthly and annual pricing.
Their standard pricing plans start from just $21 per month per user or $37 per user per month per user for a business plan. They also have plans to suit larger organizations with custom enterprise pricing. 
Features
Smartsheet's project management platform based on dynamic sheets has the following key features –
Unlimited sheets
Central dashboard
Gantt chart and Calendar based views
Document storage
Custom forms with logic
Real time collaboration
When to Use
If you are a small company currently using a spreadsheet solution to manage your projects, Smartsheet is the way to go. Its planning and scheduling feature will let you efficiently track your projects and resources to ensure nothing gets missed.
9. PlanGrid: Best for drawings and document management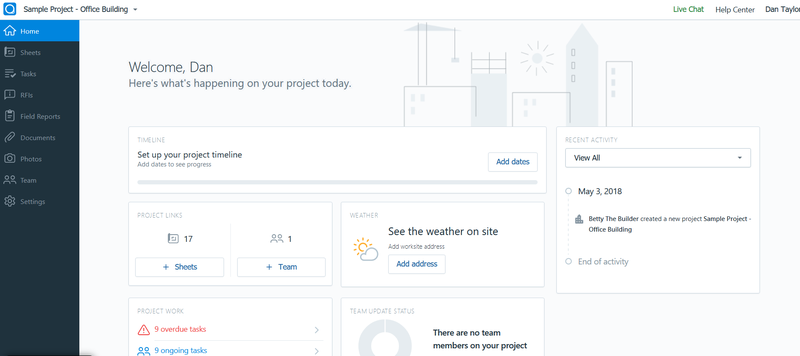 PlanGrid is geared toward companies and projects struggling with managing drawings and blueprints. The drawings and document management feature of PlanGrid is extremely powerful which allows the user to mark them up and share them with others.
However, it doesn't offer other key features which would have made it a complete construction management solution such as planning, scheduling, managing workers, budgeting, and so on.
Pros
Document management
Drawing viewer and markup on both the web and app
BIM viewer
Reporting
Checklists
Cons
It is not an all-encompassing project management solution. It doesn't have the following key features –
Construction estimating
Budgeting
Scheduling
Pricing
PlangGrid offers three-tier subscriptions in monthly or annual plans. For annual subscriptions – pricing starts at $39 per month at the "Nailgun" level, which gives you access to 550 sheets. Dozer at $59 per month, allows 5,000 sheets, and Crane @ $119 per month, provides unlimited sheets. All plans include unlimited projects, photos, and documents.
If you want to go month-to-month, the prices are $49, $69, and $139 per month, respectively. You can sign up for a 21-day free trial with no credit card and give PlanGrid a try.
Features
Document management
BIM viewer
Reporting
Checklists
Integration with 3rd party softwares for custom workflows
When to Use
At its core, PlanGrid is a drawing and document management software, so it is not the solution you need if you're hoping for end-to-end construction management software.
But it does justify its price point well if document management with markups and efficient sharing is all that you're looking for.
10. BuildTools: Best for home builders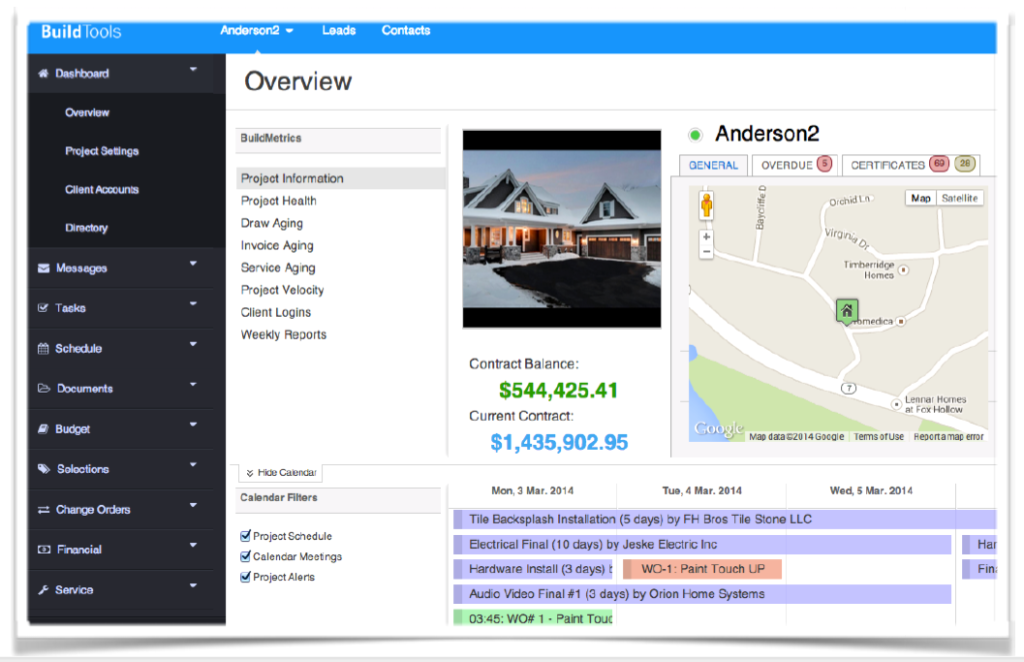 BuildTools is a web-based, construction project management software for custom builders and remodelers. Its platform allows companies to manage any administrative / back-office tasks as well as connect everyone involved.
Users can better manage their budgets, schedule subcontractors, issue purchase orders, etc. It also has additional features like bid management, document management, budgeting, communications, accounting integration, and more.
Pros
Quick Job estimation and Proposal Development
Upload photos and documents
Quickbooks integration
Centralised communication
Cons
Suitable for home builders and remodelers
Learning curve can be steep for some users
Scheduling feature cannot be used to create a company wide master schedule of all projects
Pricing
BuildTools offers simple, straightforward pricing starting from $299/month which includes up to 3 users, unlimited clients, projects, subcontractors and customer support. Additional users can be added for $20/month/user.
Features
Communication
Scheduling
Budgeting
Document Management
Change Orders
Bidding
Quickbooks integration
When to Use
BuildTools was designed by builders with both builders and clients in mind. It leverages technology, so that users can save a significant amount of time and money, such as when using templates, centralizing documents and photos accessible online, getting real-time tracking of progress, and always keeping communications clear and up-to-date for everyone involved.
FAQs about the Construction Project Management App
What is the best construction project management app?
That's a very tough question to answer. The short answer is, IT DEPENDS on what you're trying to achieve. No single construction management app is best for everybody as there is no one size fits all solution for the construction industry. 
What is the best mobile project management app for construction companies?
Buildertrend offers the best mobile app for construction project management for small to midsize companies. With features ranging from communication, scheduling, budgeting to document management, it has everything you will need to stay on top of your projects from a tablet or a cellphone.
What is the best construction scheduling software?
Smartsheet offers the best construction scheduling software built on a spreadsheet-type interface.
What is the best accounting software for construction companies?
QuickBooks is a great accounting software package for large construction firms. You'll also get invoicing, contact management, expense tracking, fixed account management, accounts payable, inventory management, and more.
How can you keep track of construction projects?
There are many tools available to stay on top of construction projects. With the rapid advancement in technology, web and app-based cloud solutions are becoming popular for real-time project management.

These apps keep the whole team connected all the time offering reporting features and resource tracking, along with features like cost management and document management.
Conclusion
Choosing something is never a fun task. As it is said that grass is greener on the other side, there is always the fear of making the wrong choice. It is important to go about this task in a methodical and systematic fashion to minimize any remorse later on. 
As you consider the best apps for construction project management, the first consideration should be given to the types of projects your business typically manages.
Small residential projects will prefer software that includes a client-facing portal and the ability to create and solicit bids. For these builders, CoConstruct, BuildTools, and Buildertrend are good options.
If your organization is into managing large projects like commercial, infrastructural, or industrial projects, then you should consider options with specialized document management and communication features. Procore and Fieldwire are both suitable for such applications.
Once you've narrowed it down to the app you need, you should verify if they have any risk-free trial options before locking yourself up in a paid subscription plan. This will help you to tread the water and confirm your choice.
If there isn't a risk-free trial available, then you can check if there is any money-back guarantee in case you later realize that this is not the right fit for you.
Choosing the right app may seem daunting but it can go a long way in simplifying your management process. You will realize that it will be time well spent figuring out the goals you're trying to accomplish for your project and organization before finalizing the app you need.
We hope you find this guide useful for finding the best construction project management apps and we wish you the best in your search.