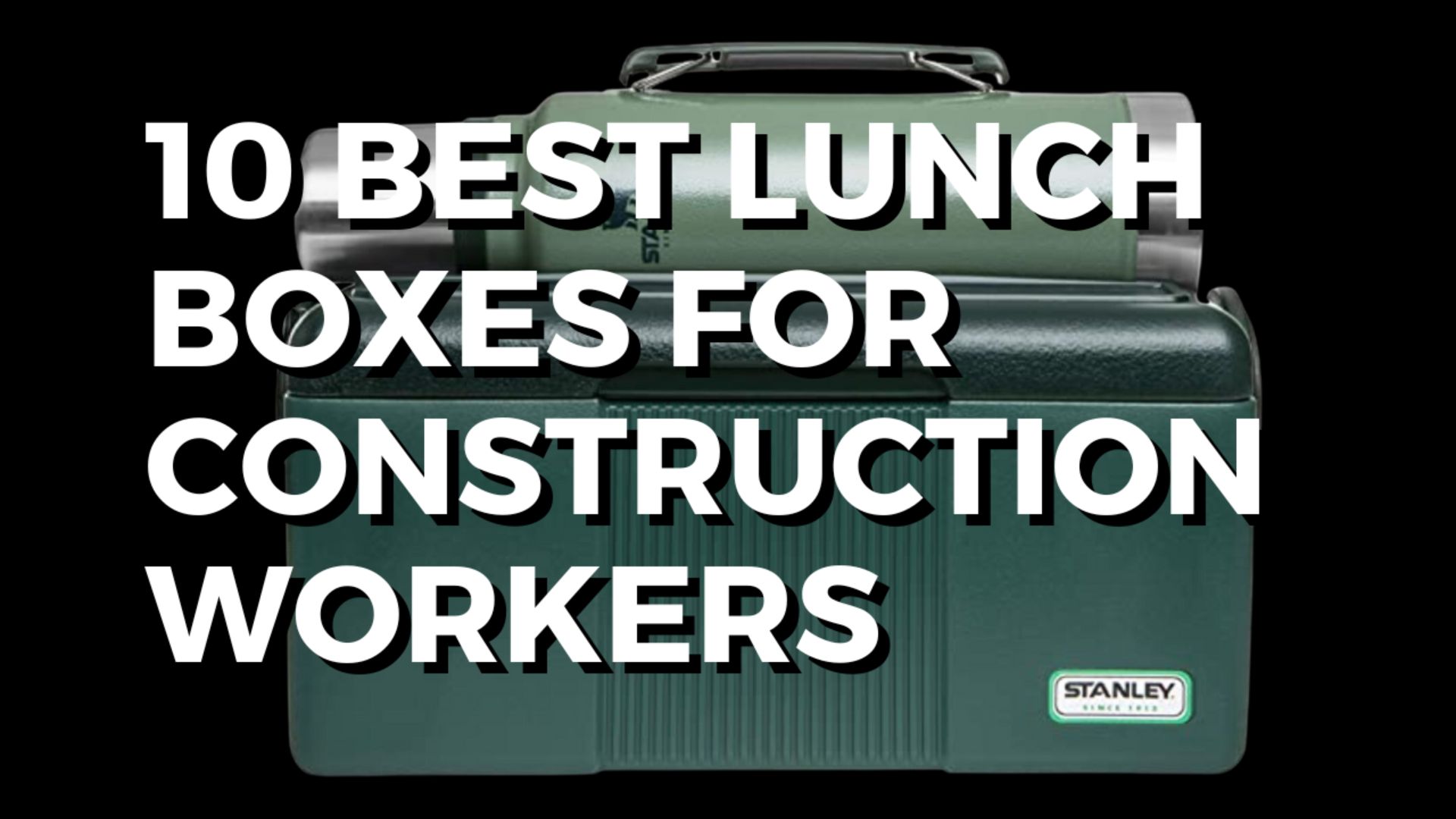 Are you a construction worker looking for the perfect lunch box to make your day at work more enjoyable?
Finding the right one can be tricky, as not all lunch boxes have the same quality or features.
You need something that will keep your food safe and secure while being durable enough to withstand harsh working conditions.
That's why we've done the hard work for you and compiled our top picks of the best lunch boxes for construction workers in 2023!
Read on to learn about each option, from their specifications and ease of use to price ranges, to find the perfect match for your needs and budget.
10+ Best Lunch Boxes for Construction Workers of 2023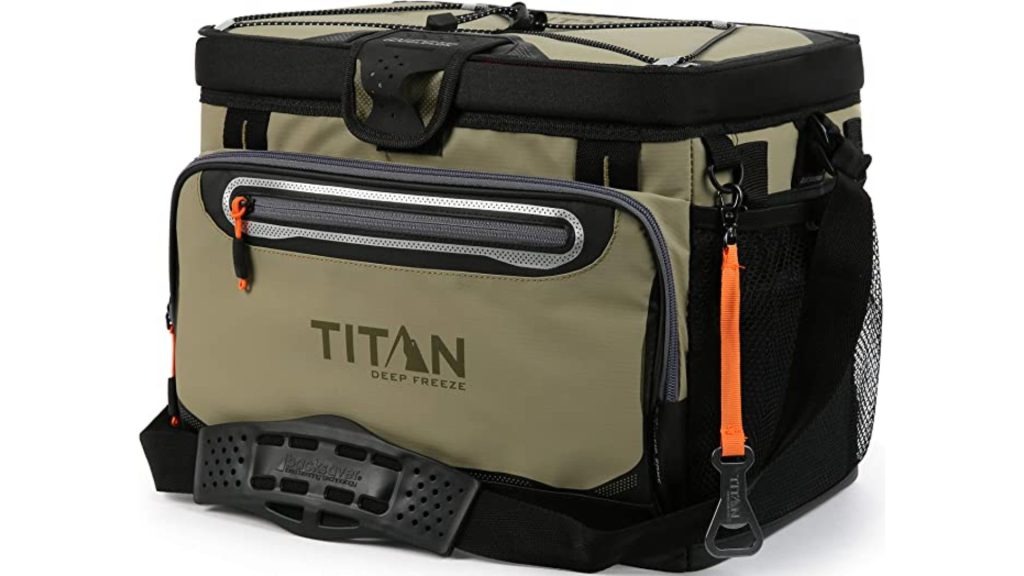 Finding the perfect lunch box for construction workers can be tough, but the Arctic Zone Titan Deep Freeze Hardbody Cooler delivers on all fronts. This hardbody cooler is designed with Rhino-Tech fabric resistant to water and stains, so you can rest easy knowing that your food will stay safe and dry.
Plus, the solid, leakproof liner ensures that your lunch stays in place, no matter how bumpy the ride may be. With its SmartShelf feature, you can divide the main food area, allowing you to keep drinks and snacks separate.
And the best part? The zipper-free lid makes it quick and easy to access your food on the go! Not only is this lunch box durable and user-friendly, but it's also affordable, making it a great choice for any budget-conscious worker.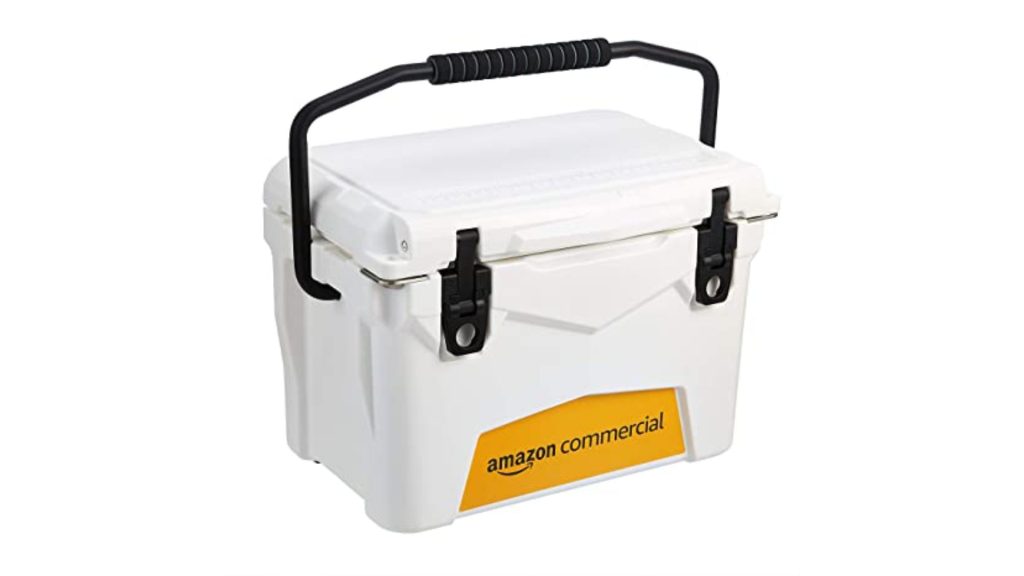 When it comes to finding a lunch box that can withstand the rigours of daily use, few materials are as dependable as steel. The Stanley Classic Lunch Box takes advantage of this strength by offering a rugged design that won't break the bank.
While it may be a basic model, it still sports a powder coating that helps prevent corrosion and two metal latches that keep your food secure.
But what sets this lunch box apart is the ability to clip in Stanley's own vacuum bottle or other containers, giving you even more options for carrying your lunch.
With a 10-quart capacity, you'll have plenty of room for your meals, although it's worth noting that this model lacks insulation. Despite this, the Classic Lunch Box still manages to be a solid choice for anyone looking for a straightforward and affordable option.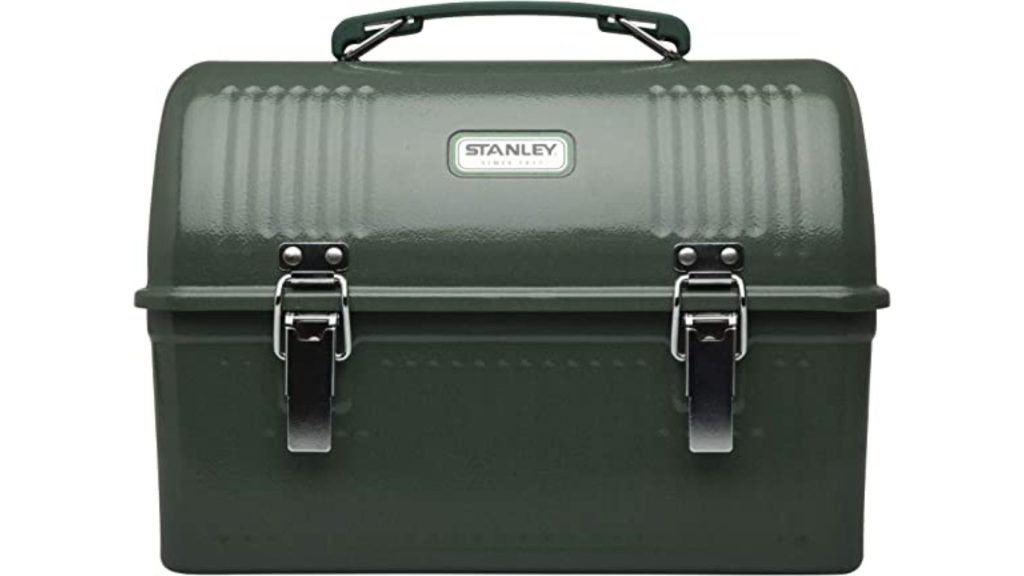 Working in harsh construction conditions can be tough, but having the AmazonCommercial cooler by your side can make all the difference.
With its rugged, rotomolded top and bottom, this cooler can withstand even the harshest environmental stresses and chemicals.
And thanks to the 3-inch thick, UV-resistant shell, the cooler offers an effective level of insulation that keeps ice for up to 5 days or more.
But this cooler isn't just tough, it's also watertight with secure plastic latches that keep your lunch and drinks safe and secure throughout the workday. So, whether you're working on a job site or exploring the great outdoors, the AmazonCommercial cooler is the perfect companion to keep your food and drinks chilled and fresh.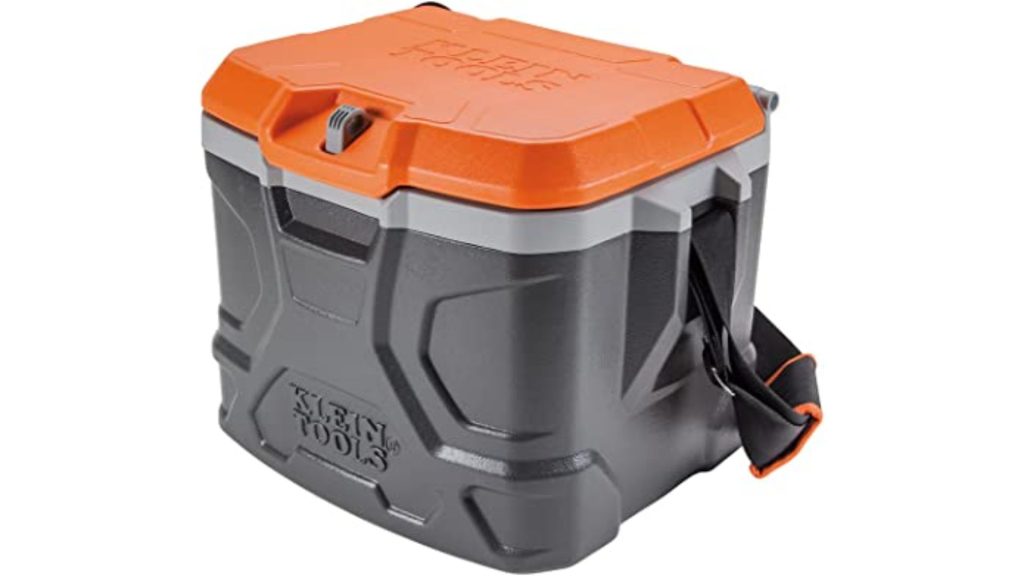 For those working in the construction and contractor trades, having reliable hand and power tools is essential.
Klein is a name that has become synonymous with high-quality tools, and their Tradesman Pro heavy-duty lunch box is no exception.
This sturdy container not only keeps your lunch safe and secure, but it also doubles as a seat with a weight rating of up to 300 pounds. And with efficient insulation, your food can stay cool or warm for up to 30 hours.
The stainless steel lid hinges are corrosion-proof and can be opened at both 90 and 180 degrees, making it easy to access your meal. Plus, with a recessed side for 1-litre bottles and a compartment for small items, the Tradesman Pro lunch box is the ultimate tool for any hardworking contractor.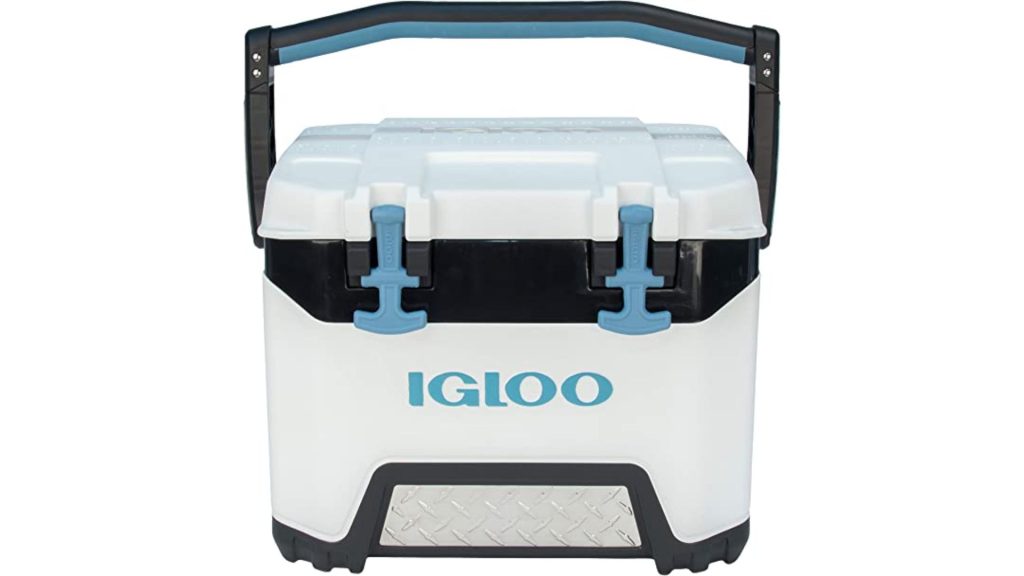 If you're in need of a lunch cooler that can stand up to the toughest conditions, look no further than the Igloo.
This appropriately named cooler is a serious workhorse, built to withstand the rigours of even the most demanding construction sites.
But it's not just functional – with enough capacity for a whole crew (or family on the weekend), it's also incredibly practical.
What's really impressive, though, is its ice retention rating of up to 4 days. That's all thanks to the thick, efficient insulation and Igloo's Cool Riser technology.
But it's not just tough on the inside – the hard-wearing case is UV-resistant, and features rustproof stainless steel reinforcements at key points like hinge pins and handle fixtures. Plus, with rubberized T-latches and a stainless steel kick plate for impact protection, you can rest assured that your lunch will stay safe and secure no matter where you take it.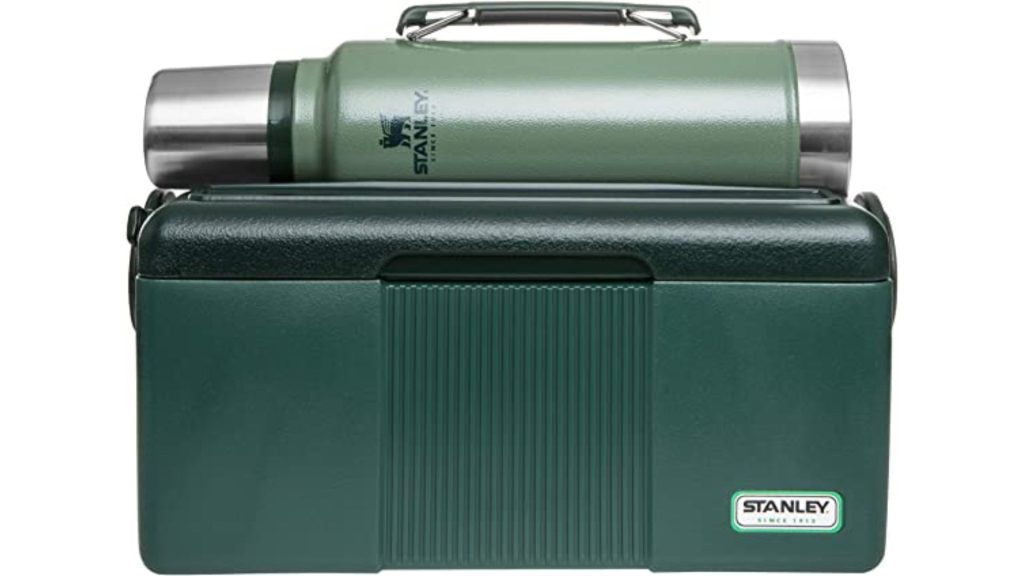 For those who value durability in their lunch box, the Stanley vacuum bottle is a great choice.
Unlike other options on the market that have a fragile interior, the Stanley vacuum bottle is well-known for its strength and can withstand a fair amount of wear and tear.
The clip holding it into the lunch box may not always do a great job, but the bottle's durability means that you don't have to worry about it breaking if it accidentally slips out of your hands.
The Stanley Adventure Heritage Cooler + Bottle Set also comes with an insulated stainless steel lunch box that has two compartments, one of which includes a reversible lid that doubles as a tray.

The vacuum thermos bottle also keeps hot or cold drinks at the desired temperature throughout the day, making it the perfect companion for any outdoor adventure.
Although the price tag may be a bit steep, the quality and durability of the Stanley Adventure Heritage Cooler + Bottle Set are worth the investment.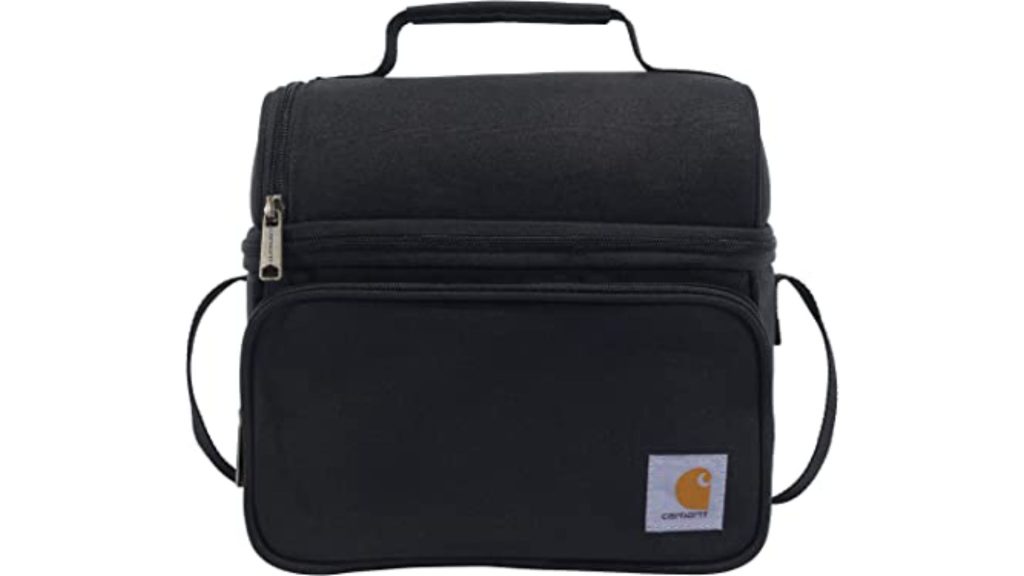 Carhartt is a brand synonymous with rugged durability, offering superior protective clothing to construction workers for over a century. Now, they have turned their expertise towards creating an exceptional lunch cooler.
The Carhartt Deluxe Lunch Cooler boasts a tough exterior made of 600 denier polyester that is triple-stitched for extra durability. The brand's trademark Rain Defender coating protects against moisture, and the zippers are heavyweight YKK fixtures that can withstand daily use.
Two spacious compartments provide convenient food storage, with the ability to keep contents cool for up to 8 hours. The top section can be accessed separately from the bottom, and the front pocket is a handy feature for storing smaller items.
With the Carhartt Deluxe Lunch Cooler, you can now take your lunch anywhere, knowing that it will stay fresh and protected.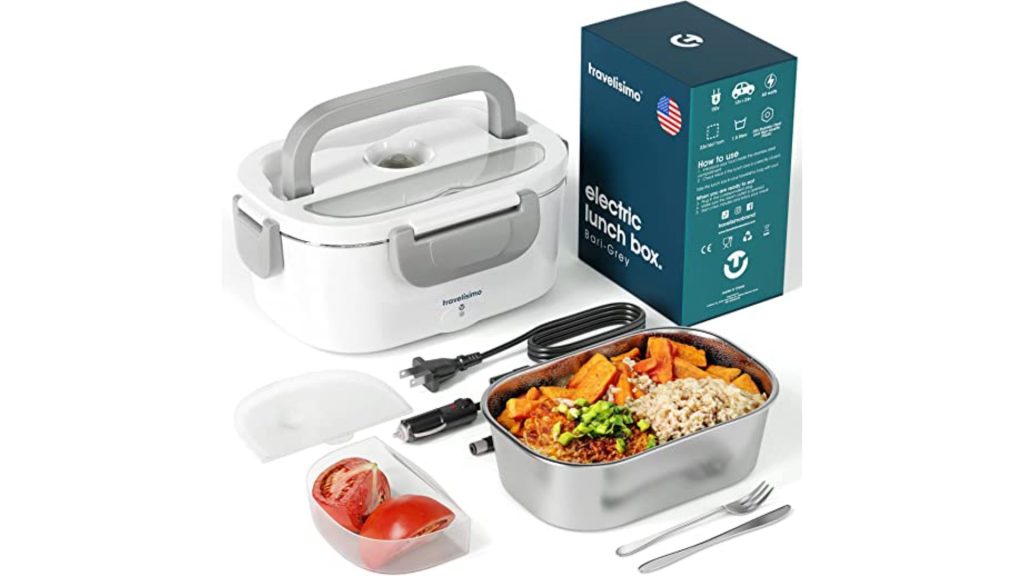 When you've been working out in the cold all morning, nothing is more satisfying than a warm meal to thaw you out.
Thanks to the Travelisimo electric lunch box, you can enjoy the comfort of a hot lunch even when you're on the go. This innovative lunch box is powered by either a standard 110-volt outlet or the 12-volt power socket of your vehicle, making it perfect for those who are always on the move.
It comes equipped with a rust-resistant and machine-washable removable steel tray, allowing you to heat your food to the perfect temperature without sacrificing its taste. Plus, the steam vent in the lid prevents burns when opening, while the separate plastic compartment is perfect for storing fruit or snacks.
Though warming your food can take a bit of time, the end result is always worth the wait.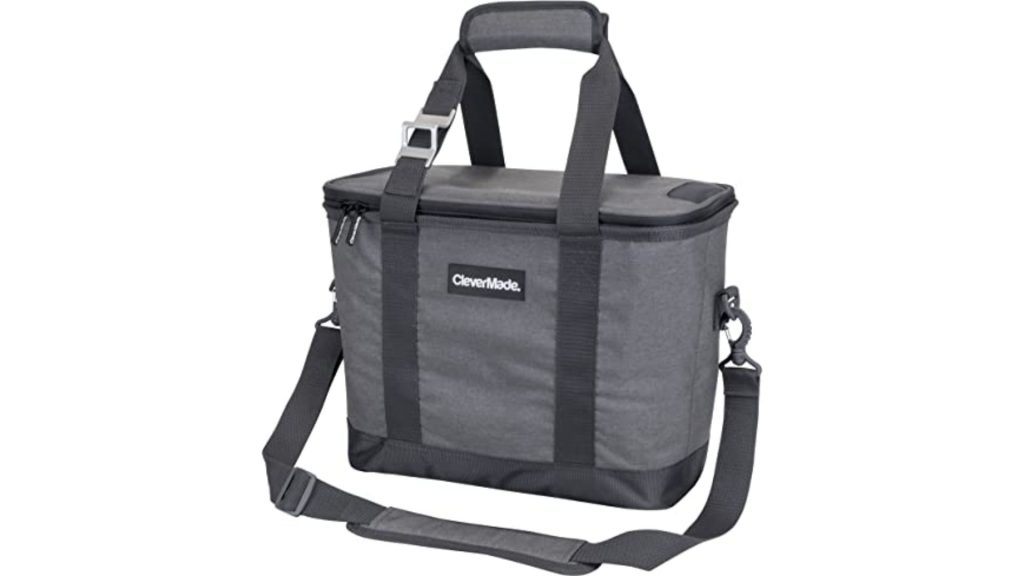 Whether you're heading to the beach, going on a camping trip, or just need a compact cooler for your daily commute, the CleverMade Collapsible Tahoe Cooler is a game-changer.
With the ability to hold up to 50 cans, you can pack a sizeable meal without sacrificing precious storage space at home, in your vehicle, or at work.
What's more, its solid base and wire support frame provide ample structure, and yet when it's time to pack up and go, the cooler can collapse down to just 3 inches thick thanks to its patented SnapHinge.
Comfortable handles at the top and side make transporting this cooler an absolute breeze, and with a built-in bottle opener and handy pocket, you'll have everything you need right at your fingertips. Plus, with its easy-to-clean polyester lining, you can rest assured that every adventure will be a clean one.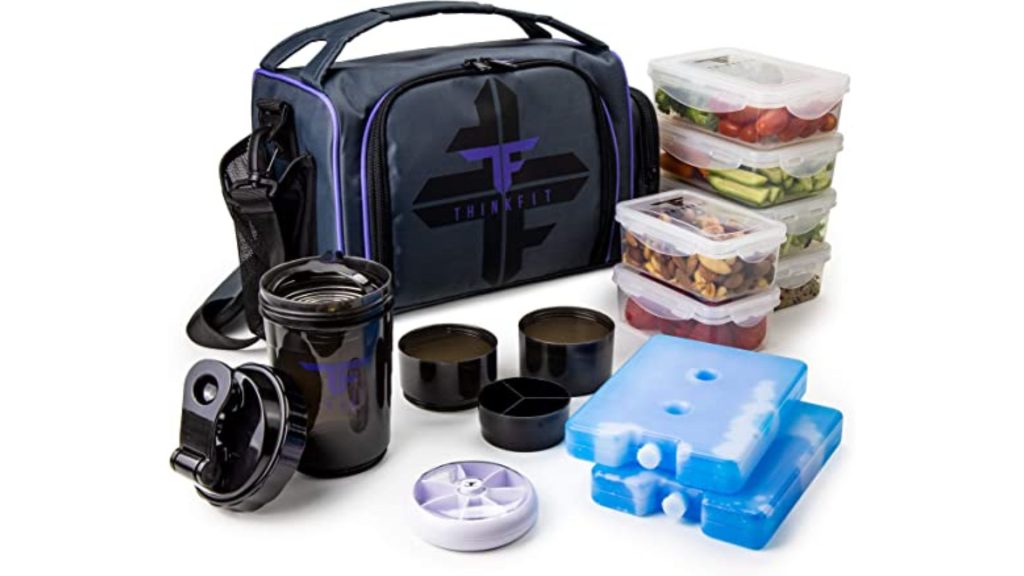 For those individuals who make a point of eating healthy and controlling their food intake, finding a suitable lunch box can be a challenge.
Fortunately, the ThinkFit Meal Prep Lunch Bag Set comes with a total of six separate food containers, ranging from 1.5-cup to 2.5-cup containers, making it an excellent choice for anyone who wants to easily and effectively manage their meals during the day.
As if that were not enough, the set also includes a 23-ounce shaker cup with a whisk, screw-on storage pots, and even a 7-day pill dispenser.
With all these features, it's easy to keep your meals separated and organized. Better still, the bag boasts multiple pockets – both inside and outside – along with a top handle and adjustable strap, making it not only functional but stylish.
Buying Guide for Best Lunch Boxes for Construction Workers
5 Tips to Choose the Best Lunch Boxes for Construction Workers
1. Look for a lunch box that is insulated. This will keep your food hot or cold, depending on what you are packing.
2. Make sure the lunch box is big enough to fit all of your food. You don't want to be stuck hungry at work because your lunch box was too small.
3. Choose a lunch box that has compartments. This will help you to keep your food organized and separate.
4. Look for a lunch box that is easy to clean. You don't want to spend your whole lunch break cleaning your lunch box.
5. Make sure the lunch box is durable. You want a lunch box that will last you for years, not one that will fall apart after a few months
Why do construction workers need the best lunch box?
Construction workers require special consideration when it comes to their lunch box needs. Working long hours that demand heavy physical exertion in all sorts of weather, these hardworking individuals need fuel that provides energy and helps keep them focused on their tasks. A proper lunch can mean the difference between a productive afternoon and one that falls short due to a lack of energy. Construction workers require meals that are substantial, easy to eat on the go, and that can be stored safely to avoid spoilage. In addition, for those who have allergies or dietary restrictions, careful meal preparation and options that fit their individual needs are crucial. A lunch that meets the needs of a construction worker will help ensure they are ready for anything, from heavy lifting to precision work.
Importance of having the right lunchbox for construction work
When working in construction, having the right lunchbox is not just a matter of convenience, it's crucial for maintaining proper nutrition and staying energized throughout the day.
The physical demands of the job mean that construction workers require substantial amounts of fuel to keep their bodies going, and the right lunchbox can make all the difference.
A well-insulated, durable lunchbox allows you to store healthy snacks, fruits, and meals without worrying about spoilage or damage.
Moreover, having a designated place for your food ensures that you can easily access your meals and snacks whenever you need them without having to waste time searching for them.
With the right lunchbox, you'll be able to keep your energy levels up, stay focused on the task at hand, and maximize your output on the construction site.
FAQ's
What is the best way to keep my lunch cold in a lunch box?
As we head back to school and work, packing a lunch becomes a daily routine. But what's the best way to keep it fresh and cool until it's time to eat? Investing in a good quality ice pack is one of the most effective and affordable methods.
Place it at the bottom of your lunch box and it will keep everything chilled throughout the day. Another option is to freeze a water bottle or juice box and use it as both an ice pack and a beverage.
Make sure to add a layer of insulation, such as a towel or napkin, to prevent any condensation from ruining your sandwich or fruit. With a little planning and some simple tips, you can enjoy a delicious and refreshing lunch daily!
How do construction workers keep their food hot?
Construction workers have some of the most physically demanding jobs out there. With all their heavy lifting and hard work, they need to stay fueled and energized throughout the day.
One of their biggest challenges is keeping their food hot and ready to eat. Fortunately, there are several ways they can do this. One option is to bring an insulated lunch box or bag to keep their food at the desired temperature.
Another is to use a thermos to keep soups or stews hot for several hours. Some construction workers even use slow cookers or portable warming trays to ensure their food stays warm and ready to eat throughout the day.
Whatever method they use, the important thing is that they are able to enjoy a hot and satisfying meal that will give them the energy they need to power through their workday.
Is an aluminium lunch box safe?
Aluminium lunch boxes are becoming increasingly popular due to their lightweight and durability. However, concerns have been raised about using aluminium in food containers. Despite these concerns, aluminium is commonly used in cookware and other food-related products.
The Food and Drug Administration (FDA) has stated that small amounts of aluminium can enter food during cooking or storage, but this level is generally considered safe for consumption.
Additionally, many aluminium lunch boxes are coated with a layer of food-grade enamel or other materials to provide an extra layer of protection.
Ultimately, the safety of using an aluminium lunch box depends on individual preferences and concerns, but it can be considered a safe option when used properly.
 How often should I get a new lunch box?
If you're someone who takes their homemade lunch to work or school, deciding on how often to replace your lunch box can be a daunting task.
It's important to remember that, just like any other household item, a lunch box has a lifespan. It can show signs of wear and tear, like a worn-out handle or faded colours or even begin to appear dirty no matter how many times you clean it.
So, it's recommended that you replace your lunch box every 6 months to a year, depending on how frequently you use it and how well you maintain it.
Not only will you be investing in a new and clean lunch box, but you'll also ensure that your food stays safe and bacteria-free. So, say goodbye to the old and hello to a new and stylish lunch box!
Which container is best for a lunch box?
When packing your lunch, the container you choose can make all the difference in ensuring that your meal stays fresh and delicious throughout the day.
While there are many options, it's important to consider what type of food you'll be bringing, as well as your preferences for convenience and ease of use.
Some popular choices include bento boxes with separate compartments for different dishes, glass containers with snap-on lids for leak-proof storage, and insulated containers that keep your food hot or cold for hours.
Ultimately, the best container for your lunch box will depend on your individual needs and priorities, but with so many options on the market today, there is sure to be a perfect fit for you.
Is a metal lunch box better than plastic?
Regarding lunch boxes, there has been an ongoing debate about whether metal or plastic is the way to go. While plastic lunch boxes may be more budget-friendly and come in various colours and designs, metal lunch boxes have some distinct advantages.
For one, they are more durable and can withstand wear and tear from daily use. They are also better at keeping food fresh and temperature-controlled, which is particularly important for items like meats and dairy.
Plus, metal lunch boxes are often nostalgic and bring back memories of a simpler time. So, while plastic lunch boxes may have their perks, when it comes down to them, a metal lunch box is the clear winner in terms of quality and practicality.
Final Thoughts:
With these 10 lunch boxes as options, it is clear that construction workers of 2023 have many good choices.
Each has something different to offer on the durability, insulation, size and portability fronts, so potential buyers should compare and contrast before investing in their purchase.

Remember that the most important factor for a construction worker's safety and efficiency is having a sturdy, dependable lunch box for the job site. The features discussed here should help you make a wise decision that will protect your investment for years.
So choose wisely, think about what features are best for you, but remember: your health is worth the splurge; invest in quality when purchasing a lunch box for your work site now and in the future!
You'll Also Like:
Best Tablets For Construction
Best Heated Jacket For Construction
Best Backpack For Construction Workers
Best Earbuds For Construction Workers
Best Laser Levels For Contractors
Best Hammer Drills
Best Drone For Construction